San Diego Shows Its Generosity During COVID-19
San Diego Shows Its Generosity During COVID-19
Scripps health care workers grateful for substantial community support during the pandemic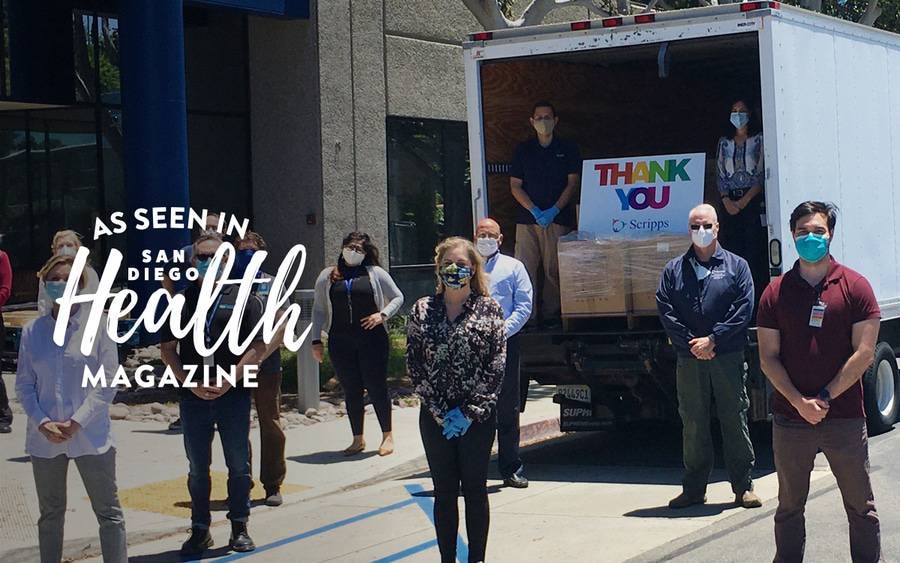 Scripps has supported the community for generations — and now our community is showing its gratitude for its local health care heroes.
Thousands of San Diegans have stepped up in recent months to support Scripps Health as we continue to fight COVID-19. They have donated money, masks, meals and more to ensure that the physicians, nurses and support staff on the front lines have what they need to care for the influx of patients that hospitals are seeing during the pandemic.
Refocusing funds on critical coronavirus care
Scripps paused its traditional fundraising and funneled its efforts toward COVID-19 patient care, establishing a special COVID-19 Response Fund to support critical operating needs. As of July 7, 2020, Scripps' COVID-19 Response Fund had received roughly $4.4 million in community donations, which have been used for personal protective equipment (PPE), COVID-19 testing cabanas, ventilators and other much needed resources to help health care workers make a difference and offset the costs of pausing nonessential services. 
Scripps has also set up a dedicated nurse line, which fielded 2,000 calls on its first day alone, and triage tents outside emergency departments and urgent care centers where patients exhibiting fever or respiratory symptoms can be evaluated. 
"If you don't have a strong health care system in times like this, it's devastating," says Mary Braunwarth, vice president of Scripps Health Foundation. "We're fortunate that Scripps Health is an excellent health care system — but we couldn't do this without the community."
Philanthropic gifts are more priceless than ever
This April, The Conrad Prebys Foundation made a $1 million challenge match gift to support the COVID-19 Response Fund. With the community at risk, The Conrad Prebys Foundation's board of directors decided to take action; they made this generous challenge to inspire others to join them in supporting Scripps. During his lifetime, Conrad Prebys donated more than $81 million to Scripps Health. This most recent gift carries on that legacy.
"Given his unwavering commitment to San Diego, it is fitting that his foundation has taken a leadership role with a gift to fund critical supplies, support front-line caregivers and potentially help save thousands of lives during the COVID-19 pandemic," says Chris Van Gorder, Scripps president and CEO.
Scripps uses thousands of masks, gowns and other crucial supplies daily to protect its doctors, nurses and patients — which comes at a high cost to the organization. Scripps is also extremely grateful to the 4,000 people who committed to being part of the solution and became first-time donors since the pandemic began.
"For me, seeing all the brand-new folks stepping up has been the most meaningful," Braunwarth says. "We are blessed with a lot of very generous donors who've given to Scripps over the years, but to see all these Scripps patients and community members give their first gift to Scripps — it touches everyone for sure. Everyone has absolutely made a difference."
Businesses bolster lifesaving supplies and equipment
When the first cases of COVID-19 appeared in the region, Scripps took initiative to bolster its supplies and equipment in anticipation of the disease spreading, but still needed a little help. Once Scripps put out the call for community donations, individuals and local businesses were quick to provide. 
Vertex Pharmaceuticals, which has a research and development site in San Diego, donated $250,000 to support costs associated with running the COVID-19 testing cabana at Scripps Green Hospital. Sony Electronics, whose North American division is headquartered in Rancho Bernardo, delivered 10,000 N95 masks to Scripps health care workers.
"We see day-to-day the struggles that our local hospitals are faced with, especially in the south county," said Mike Fasulo, president and chief operating officer of Sony Electronics. "We hope by donating needed PPE to Scripps hospitals, we can not only provide supplies they need, but can also raise awareness for their ongoing need for PPE."
NBA great Kareem Abdul-Jabbar heard about the need for medical equipment from his lawyer Steven Anapoell, whose brother William Anapoell, MD, is a physician at Scripps. Evoking the look he made famous during his days on the court, Abdul-Jabbar donated 900 pairs of safety goggles to protect Scripps doctors, nurses and other medical professionals. He thanked them for their hard work and jokingly added that he hoped they'd look as good in goggles as he did. 
San Diego schools show support
Even students are finding ways to help Scripps. Francis Parker School science teacher Denver Guess informed Jenny Davis, MD, a pediatrician at Scripps Clinic Carmel Valley, that he and his students could use the school's 3D printers to help manufacture visors for face shields. 
Scripps' supply chain team got involved, helped with the printing speci¬fications, and sourced the straps, padding and other components that would complete the assembly. Health care providers can disinfect and reuse the face shields multiple times. 
Others reached out to offer the use of their 3D printers, including The Bishop's School in La Jolla, Qualcomm and San Diego Public Library staff.
Donated goods make a discernable difference
Josh Spangler, senior director of Supply Chain Management at Scripps, says that community support and equipment donations have greatly supported front-line staff during the pandemic. Usually his team keeps only a certain amount of stock on hand, but that model changes in an emergency when supplies are quickly dwindling and replacements that used to be delivered in three to ¬five business days are taking upward of two months.
"This is a first, for the supply chain to ask the public for assistance," he says. "The generosity and the willingness of the community have been extraordinary. Every single piece of medical equipment goes to use."
Scripps has a number of off-site locations where health care supplies can be dropped off and is still accepting the following items:
N95 masks and respirators
Surgical or procedural masks
Gowns
Non-latex gloves 
Eye protection 
Disinfecting wipes 
Hand sanitizer
Hand soap
Feeding the front line
It takes a village to fuel the people providing round-the-clock COVID-19 care and support. Grammy Award winner Lizzo made the news when she surprised physicians, nurses, and staff at Scripps Memorial Hospital La Jolla with a catered lunch and an uplifting message thanking them for their tireless work — as did Detroit Lions wide receiver Marvin Jones Jr. when he sent lunch to caregivers at Scripps Mercy Hospital San Diego.
The Rosso Family Foundation wanted to give a spoonful of thanks to the often overlooked laboratory staff across the Scripps system for their important work. In honor of National Laboratory Week in April, the longtime donor family sent meals to more than 500 lab employees who have been working hard to process all the tests associated with COVID-19. 
Lou Rosso, a former executive at a device manufacturer, says that a proper Laboratory Week celebration was in order to recognize their efforts: "I spent my career in the laboratory instrument industry and have a special appreciation for the important behind-the-scenes work that the laboratory and associated workers do, especially with all the COVID-19 testing underway."
Local restaurants are also preparing meals for Scripps health care workers, though many have reduced operations due to public health restrictions. Among them are Casero Taqueria in Carlsbad, which delivered burritos to hungry workers at Scripps Memorial Hospital Encinitas; and dumpling purveyor Din Tai Fung, which donates 150 meals once a month to various units at Scripps Mercy Hospital San Diego.
The Sharing Hands Foundation has found a way to both nourish Scripps caregivers and support local restaurants: by purchasing gift cards from restaurants impacted by the pandemic and donating them to front-line health care workers. Scripps Mercy Hospital Chula Vista was chosen to receive $5,000 worth of prepackaged meals from Mangia, The Crack Shack, Cloak and Petal, and Cross Street Chicken & Beer.
"The staff is extremely appreciative," says Spangler. "And it goes right to good use — keeping them fueled and keeping them healthy."
Food donation offers are considered on a case-by-case basis at individual Scripps sites and must be preapproved through the site's corporate command center. In some cases, a food donation contract may be provided.
*This content appeared in San Diego Health, a publication in partnership between Scripps and San Diego Magazine that celebrates the healthy spirit of San Diego.
Donate to Scripps COVID-19 Fund
While we continue to ensure our physicians, nurses and staff have the resources they need to safely care for patients, we have set up a special Scripps COVID-19 Fund to directly support our response to the health care needs of our community during this unprecedented time.