President's Council Newsletter: Winter 2018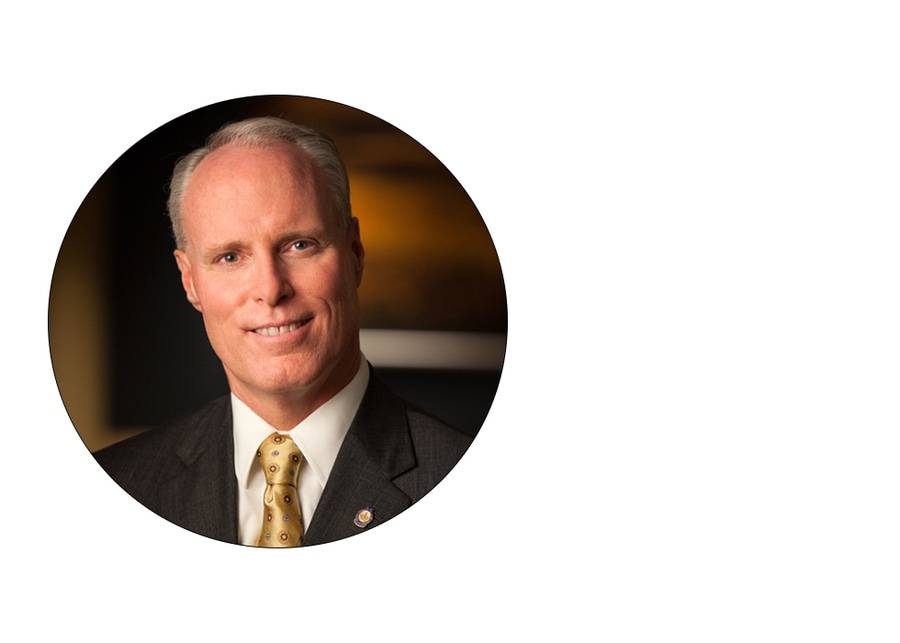 A message from Chris Van Gorder
Dear Friends,
At Scripps, we are part of something extraordinary. We save lives and give hope. As I reflect on 2017, it is gratifying to know that we touched thousands of people's lives when they needed our help and expertise most. As I look ahead, one thing is clear. Health care in America is changing, and we must change with it.
I am reminded of our founders Ellen Browning Scripps and Mother Mary Michael Cummings, who faced changing times in the late 19th and early 20th centuries when they opened our first hospitals. Back then, hospitals in San Diego were novel and untested, but these two forward-thinking leaders moved boldly in this new direction.
In the spirit of our founders, we will move forward just as boldly to continue providing nationally-recognized care in a new health care era. Thank you for being our partner. And thank you for trusting us with your care and your investment in Scripps' future.
Chris Van Gorder, FACHE
President and CEO
Scripps Health
Behind the Scenes: Trauma and Emergency Care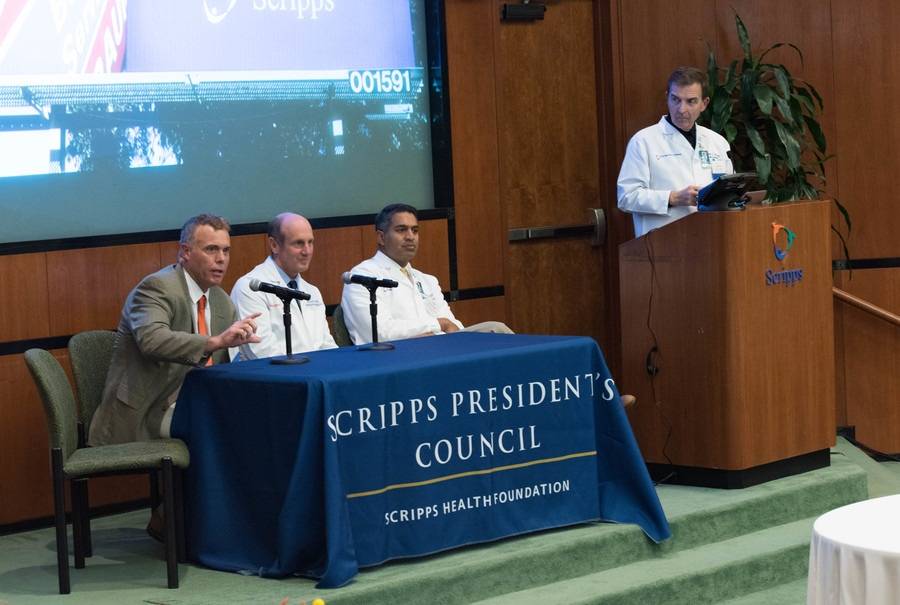 When Minutes Matter: Taking Trauma Care to the Next Level was the topic of November's 2017 Frontiers in Medicine. A distinguished panel of nationally recognized Scripps specialists provided insights into the history of trauma care, current resuscitation therapies, the current state of trauma and emergency medicine in San Diego and our readiness to respond to a mass trauma.
The discussion was moderated by Michael Sise, MD, Chief of Staff, Scripps Mercy Hospital. Speakers included Vishal Bansal, MD, Medical Director, Trauma Services, Scripps Mercy; Shawn Evans, MD, attending Physician, Emergency Services, Scripps Memorial Hospital La Jolla; and Eric Lovell, MD, Medical Director, Disaster Management, Scripps Memorial Hospital Encinitas.
An Inside Glimpse: Vince Aspromonte
A few years ago, Vince Aspromonte had a unique experience in the emergency department at Scripps Memorial Hospital La Jolla — not as a patient, but as an observer. For two days, he shadowed Dr. Shawn Events, emergency medicine physician, as he and his team worked tirelessly to provide critical care. Impressed with the leadership and synergy that he witnessed, Vince became a Scripps President's Council member and volunteered to serve on the La Jolla board of advisors. He has continued his role as an active board member ever since.
"At the time, I had no previous involvement with Scripps Health or the medical arena. I didn't even realize that Scripps is a non-profit health care system," says Vince. "The whole experience was enlightening."
As a Scripps ambassador, Vince helps educate the community about the growth, innovations, advancements, and partnerships that are happening throughout Scripps Health. 
Vince and his wife Suzie choose to support Scripps through unrestricted giving, allowing their gifts to benefit areas and initiatives that are in greatest need.
We have a lot of trust in Scripps. The organization is achieving great success, acquiring new technology and partnering with international leaders like the MD Anderson Cancer Center. We are confident that the funds we give are contributing to even better health care. And there's no doubt, if we have a medical emergency, there's only one place we'll tell the ambulance to go — Scripps.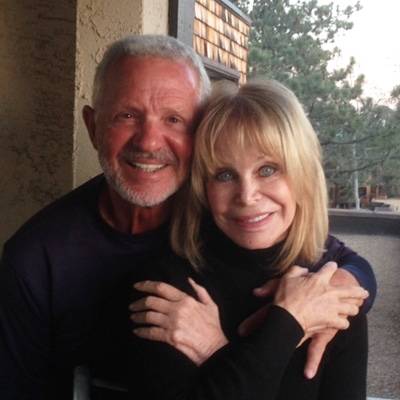 -Vince and Suzie Aspromonte, President's Council Members
Join us at an upcoming event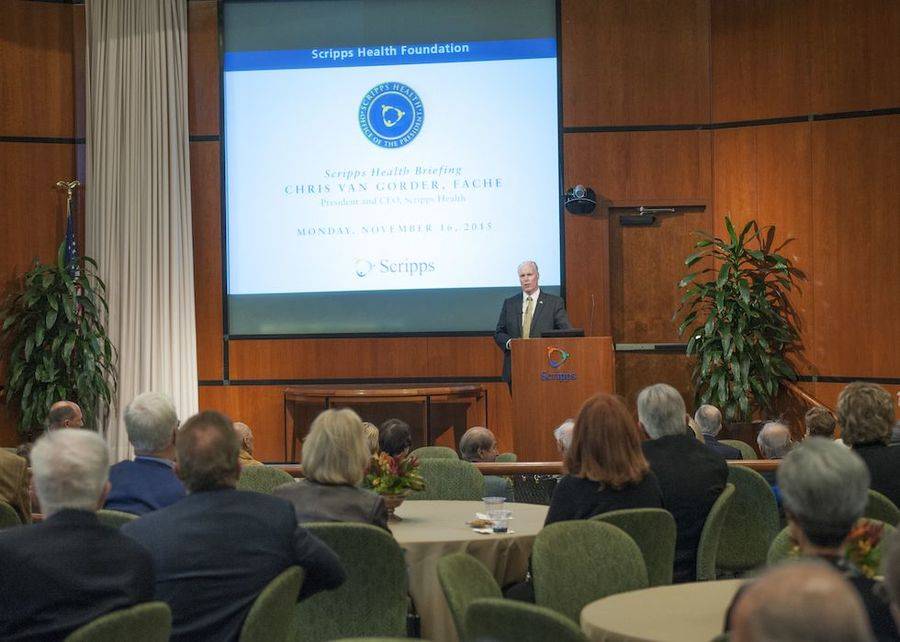 Join us at one of our upcoming events listed below.
Stop the Bleeding: February 8, 2018, Scripps Mercy Hospital
Scripps Health Briefing with Chris Van Gorder: February 20, 2018, Schaetzel Center
SCORE Lab Tour: March 15, 2018, Torrey Pines Campus
SEE A FULL LIST OF OUR UPCOMING EVENTS
For additional event details, please call 858-678-7063 or email presidentscouncil@scrippshealth.org.
Renew your President's Council membership today
Continue to enjoy the rewards of membership in this remarkable philanthropic group. With an unrestricted gift of $1,000 or more you can renew your Presidents Council membership today!
Scripps Recognized as Best in Health Care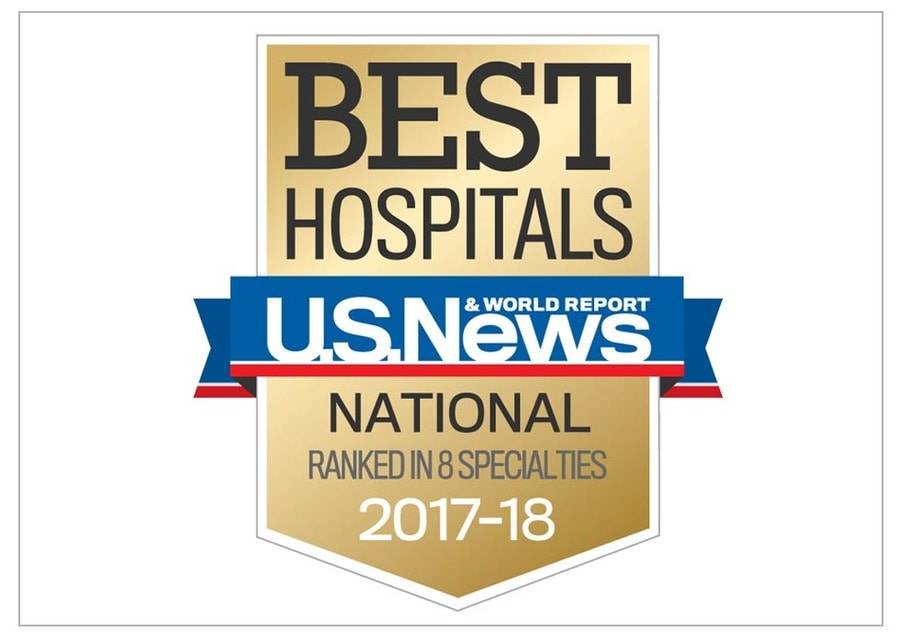 Providing quality care has been our top priority at Scripps for nearly 100 years and, once again, our efforts have gained national recognition. For 2017-2018, U.S. News & World Report ranked Scripps No. 1 in San Diego and among the best in the nation in eight specialties.
Excellence in specialty care
Only three percent of the 4,658 hospitals analyzed were nationally ranked in at least one specialty. The combined programs of Scripps Memorial Hospital La Jolla and Scripps Green Hospital ranked in eight specialties: gynecology, diabetes and endocrinology, pulmonology, cardiology and heart surgery, gastroenterology and GI surgery, orthopedics, geriatrics and nephrology.
Top in the state and best in the region
U.S. News evaluated the best regional hospitals in 45 metropolitan areas with a population of a million people or more, based largely on the number of national rankings achieved. The combined programs of Scripps Green and Scripps La Jolla ranked No. 1 in the San Diego metropolitan area and No. 6 in California. Scripps Mercy ranked No. 5 in the San Diego metro area. 
Our success is your success 
Our President's Council members and all our Scripps donors play an undeniable role in the delivery quality medical care every day. That's why this national recognition of Scripps is a salute to our donors who, year after year, help make it possible to provide outstanding health care — right here at home. 
President's Council Needs You
Give Online
To make or increase your annual gift, use our secure donation page.
Get the Latest News
To stay up-to-date, sign up for our emails.