Prebys Cancer Center Construction Milestone Marks Progress
Prebys Cancer Center Construction Milestone Marks Progress
Scripps celebrates bringing new cancer center to San Diego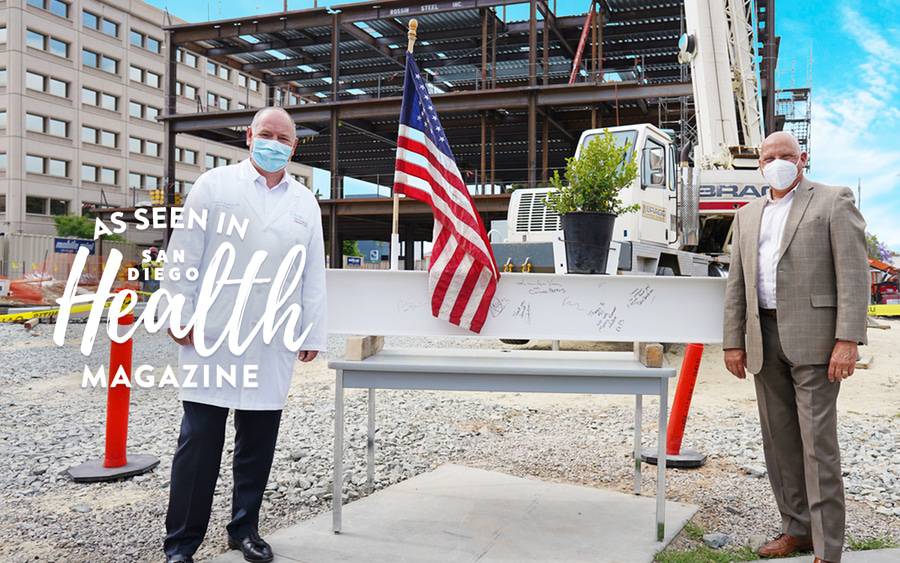 Construction on the Prebys Cancer Center at Scripps Mercy Hospital San Diego reached a milestone recently as its final beam was lifted into place. 
The topping-off ceremony for Scripps Cancer Center's second, state-of-the-art cancer care hub looked a little different due to social distancing safeguards, but Scripps officials and representatives from the estate of the late Conrad Prebys were still able to add their names and well wishes to the beam before it was hoisted to the top of the four-story, 40,000-square-foot structure.
Prebys donation allows for cancer care expansion
Shortly before his death in 2016, Prebys pledged $20 million toward the outpatient center, which will expand the leading-edge cancer care Scripps is known for to more patients in central and south San Diego County. His longstanding philanthropic presence is seen throughout the Scripps system, including at the Conrad Prebys Emergency and Trauma Center (also at Scripps Mercy Hospital San Diego) and the Prebys Cardiovascular Institute at Scripps Memorial Hospital La Jolla.
John Engle, Scripps corporate senior vice president and chief development officer, whose relationship with Prebys dated back many years, says the new center is "just what Conrad envisioned."
"I think that he would be so pleased to be able to see that this project is actually finally coming to fruition, that his resources are what's making it happen, and that this building is going to stand for many years to come," says Engle. "It's going to provide outstanding care for people Conrad never even knew."
Donors are key part of cancer care team
Once completed in 2022, the Prebys Cancer Center will become a healing environment with leading-edge radiation therapy technology, a 20-chair infusion center and spaces for treatment planning, patient exams and consultations, physician offices and patient support services.
"The best cancer care comes from a team — a team that's integrated and working all in the same direction with the patient as the North Star," says Thomas Buchholz, MD, medical director of Scripps Cancer Center. "This team includes medical professionals like surgeons, radiation oncologists, medical oncologists, pathologists, nursing, social work, genetic counselors — everybody chips in. But it also requires the community. It requires generous people like yourselves to donate their resources, their time, their effort to get behind helping cancer patients in their time of need."
*This content appeared in San Diego Health, a publication in partnership between Scripps and San Diego Magazine that celebrates the healthy spirit of San Diego.
Donate to Scripps COVID-19 Fund
While we continue to ensure our physicians, nurses and staff have the resources they need to safely care for patients, we have set up a special Scripps COVID-19 Fund to directly support our response to the health care needs of our community during this unprecedented time.