Scripps Clinic perinatologist and medical director makes high-risk pregnancies a top priority
For an expectant mother, the greatest wish is to have a healthy pregnancy, easy delivery, and the arrival of a healthy baby boy or girl. When all goes as planned, that wish is fulfilled and the joy of motherhood can commence. However, for a growing number of women with high-risk pregnancies, extra-special care is needed along the way to ensure a positive outcome for both mom and baby. That's where Scripps' perinatology program is called into action.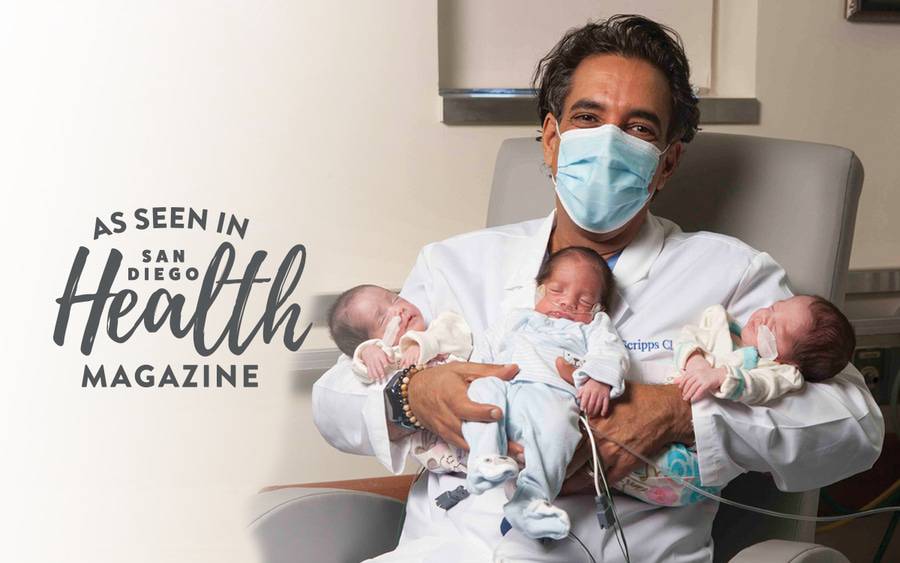 A 2020 study by Blue Cross Blue Shield found that pregnancy and childbirth complications have risen 31.5 percent in recent years as more millennial moms-to-be enter pregnancy with preexisting conditions, such as hypertension and diabetes, that increase their chance of having a high-risk pregnancy. To address this, Scripps launched a comprehensive program under the direction of Sean Daneshmand, MD, perinatologist and medical director, Scripps Clinic Division of Maternal and Fetal Medicine. Recognized as one of the region's leaders in treating high-risk pregnancies, Dr. Daneshmand has been ramping up the program across the Scripps system since 2018. 
Starting with a strong commitment to providing informative, collaborative and compassionate care throughout every stage of pregnancy, the perinatology program combines the skills and expertise of a wide range of specialists — perinatologists, cardiologists, endocrinologists, neonatologists, sonographers, genetic counselors, nutritionists — with state-of-the-art technology, such as high-resolution ultrasound machines to offer the most comprehensive care available. Thanks to the support of generous donors, Scripps has been able to invest in equipment that can help detect complications early, improving outcomes for mothers and their unborn babies. 
"Thanks to our state-of-the-art technology, we are better equipped to make early diagnoses and help people whose babies have structural and/or genetic abnormalities," Dr. Daneshmand explains. "We have ultrasounds that can look at the baby at an early gestational age with the ability to diagnose defects as early as the first trimester. The earlier the diagnosis, the earlier the workup and counseling, which leads to improved planning and hopefully better outcomes. We can do that only with a continued investment in technology."
To fulfill the program's goal of expanding services to meet the needs of all high-risk mothers, Scripps is investing in technology at its hospitals and clinics throughout the county, relying on the support of donors who are also passionate about improving outcomes for pregnant moms.
"One of the key elements to improving outcomes in high-risk pregnancies is improving access to care for these high-risk mothers," Dr. Daneshmand says. "Scripps' investment at sites throughout the entire San Diego region will bring care to these women wherever they are."
Our Pledge to Parents 
New parents want only the best for their babies. When complications arise, mamas and papas can rest assured knowing their little bundles of joy are in good hands at Scripps. Scripps' comprehensive perinatology program, one of the best around when it comes to high-risk pregnancies, is ready and waiting to care for even the littlest patients — even before they're born. State-of-the-art technology, specialists in an array of disciplines and a commitment to providing the very best care all set Scripps apart. Scripps is also making investments in its maternal care and perinatology programs system-wide, and it's all thanks to generous donors who want the best for these babies, too.
Third time's a charm
A first-time mother, Maria Franco suspected she was pregnant when she felt constantly hungry. She and her fiancé, Ruben Rojo, visited her gynecologist in Tijuana when they heard the news that not only was she pregnant, she was also expecting twins. 
That discovery was about to become even more unbelievable for the couple. A subsequent visit to her gynecologist found another surprise — Franco was in fact having triplets! 
"This was a spontaneous pregnancy — meaning it was not assisted by in vitro fertilization — and the incidence of spontaneous triplets is very low," explains Dr. Daneshmand. "With triplets, there are a lot of possible complications — pre-eclampsia, gestational diabetes, and premature labor and birth." 
At just 22 weeks, Franco faced the risk of early delivery. She was prematurely 2 centimeters dilated — with nearly half of her pregnancy to go. An intervention was needed to keep both Franco and her three babies safe. 
"After extensive counseling, we proceeded to place a cerclage," Dr. Daneshmand continues. "This is where you put a suture in the cervix like a purse string to provide some structural support in keeping the cervix intact. By performing this procedure, we were successful at keeping her pregnant to 33 weeks of gestation."
On September 9, 2021, Franco delivered three bundles of joy via caesarean section at Scripps Memorial Hospital La Jolla. Born seven weeks early, Isabella, Camilla and Ander were immediately admitted to the neonatal intensive care unit (NICU) so they could be monitored and continue growing to a healthy weight. Soon they were transferred to the NICU at Scripps Mercy Hospital, Chula Vista, to be closer to their parents. Scripps' NICUs are managed by Rady Children's Hospital-San Diego to provide specialized care for newborns. Franco and Rojo say they are eternally grateful for the care they received from their entire team of Scripps providers, from the NICU nurses in both La Jolla and Chula Vista to Dr. Daneshmand, whom they hold in the highest regard.
"Dr. Daneshmand was so great the whole time," Franco says. "He's more than a doctor. He cared for me and made me feel like I was part of his family. For me, it was the best possible experience with him — I don't have the words to express how wonderful he is."  
While the couple eagerly awaited the day they could bring their babies home, they knew they couldn't have wished for a better place for the triplets to be than with Scripps. 
"They have been so nice to us," Rojo says. "They take care of the babies really well, and they explain everything they do for the babies in a way that makes it easy for us to understand, so we always have an idea of what they're doing. We have only good things to say about Scripps."
Learn more about Scripps perinatology services and ways to donate. 
This content appeared in San Diego Health, a publication in partnership between Scripps and San Diego Magazine that celebrates the healthy spirit of San Diego.