Honor Your Caregiver: Scripps Patients Share Their Stories
Each month, dozens of patients leave amazing stories on Scripps Health Foundation's Honor Your Caregiver website. They do this to share the experiences they've had — with our physicians and nurses, lab techs and patient care navigators, dietitians and physical therapists. They do this to say thanks for saving their lives or their loved ones. They do this to show appreciation for excellence, kindness and compassion.
Each story is unique and each one is recounted in a letter delivered to the honored Scripps employee. The end result is a moment of pride on the part of the caregiver, followed by a lasting commitment to delivering excellence at every possible opportunity. Here are three patient stories and the impact Scripps has made on their journey. Check back soon to find new stories of thanks.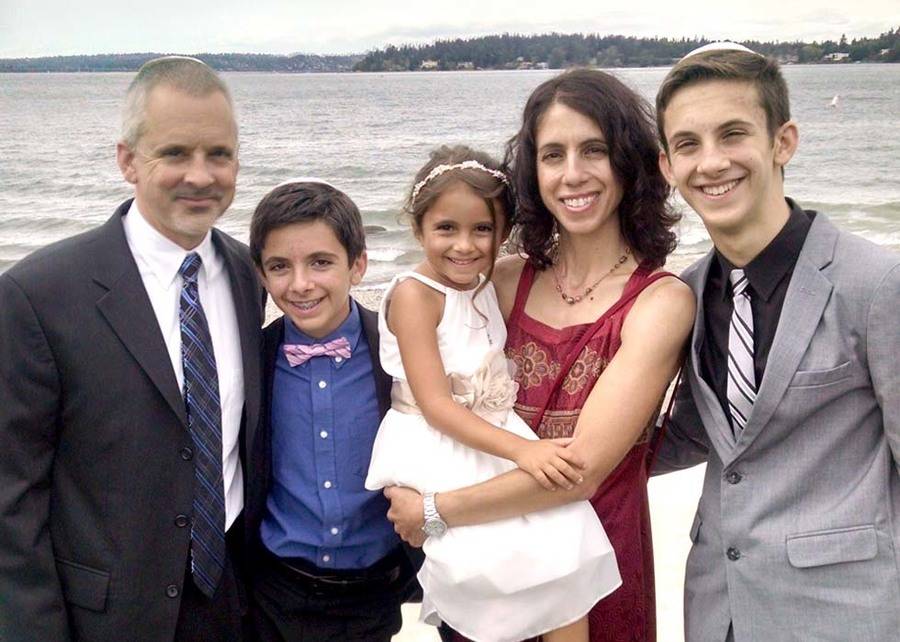 Linda Colarusso: A Loyal Scripps Employee and Patient
Linda has been a social worker at Scripps Mercy Hospital for more than nine years. As a mother of three, her health and the health of her family are very important, which is why she relies on Scripps pediatrician Sivathilaka Ganesh, MD.
"Thank you, Dr. Ganesh, for being so thorough with the care you provide to all three of my children. We appreciate the time and consideration you have given us at each doctor's visit. Dr. Ganesh is an outstanding doctor, who provides thorough, thoughtful and compassionate care."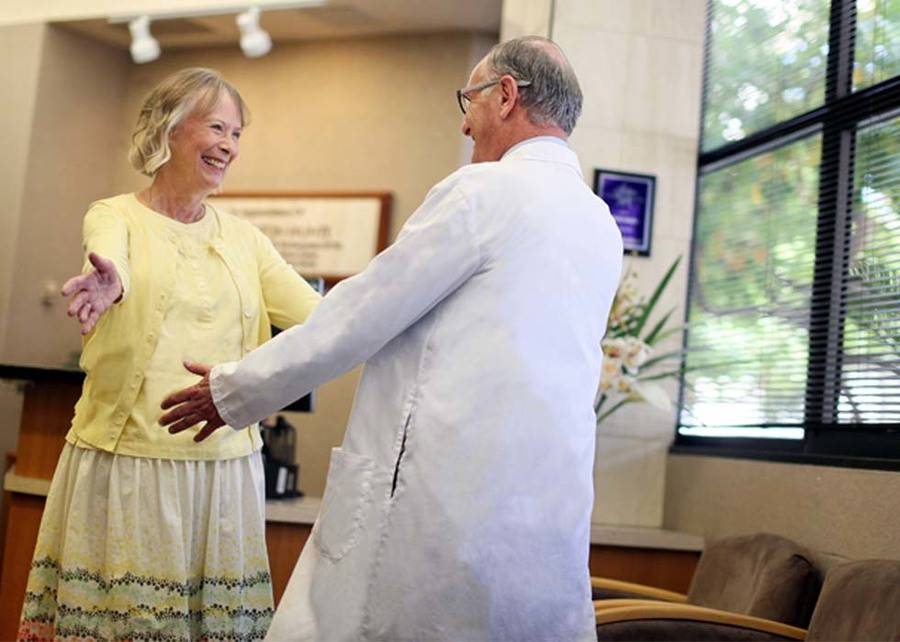 Mary Jennings-Smith: Winning against Cancer
Mary Jennings-Smith was diagnosed with breast cancer in 2005. Under the care of Michael Kosty, MD, and his team, Mary has successfully battled cancer and is living life on her terms.
"I read that 'time is the only non-renewable form of wealth.' Dr. Kosty has given me more time to enjoy my family and friends and to travel around the world. He has helped me stay in the present, giving me a sense of serenity. Dr. Kosty, the nurses and staff at Scripps Clinic Rancho Bernardo have worked with me, laughed and cried with me, and supported me in my 11-year journey with metastatic breast cancer."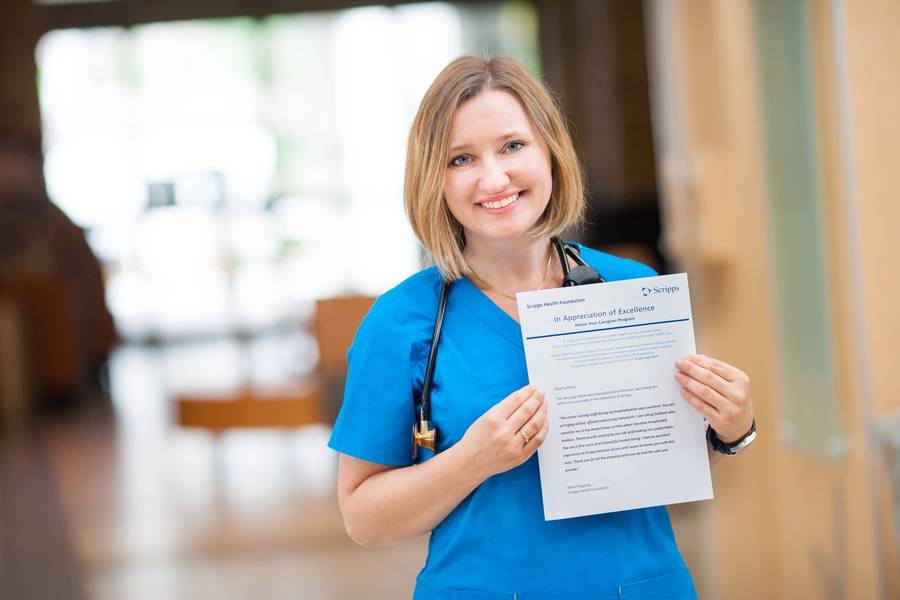 Svitlana Subramaniam: A Nurse's Perspective
The story of Svitlana Subramaniam, RN, and her patient, Gloria Merriam, demonstrates the incredible impact your story can make for a Scripps caregiver.
"Svitlana cared for me in my darkest hour. Thank you for staying by my side. You are a fine nurse and a beautiful human being." 
– Gloria Merriam, Scripps Patient 
"Her letter took my breath away. It is inspiring in ways that words can't describe. I am grateful to my patient for taking the time to express her feelings." 
– Svitlana Subramaniam, RN
Do You Have a Story to Tell?
If you've had a meaningful experience at Scripps, please let us know. When you share your story or make a donation, Scripps Health Foundation will let our senior leaders know about the difference your caregiver made, so we can continue to provide excellent care to more patients like you. It only takes 60 seconds, but sharing your story makes a lasting impact.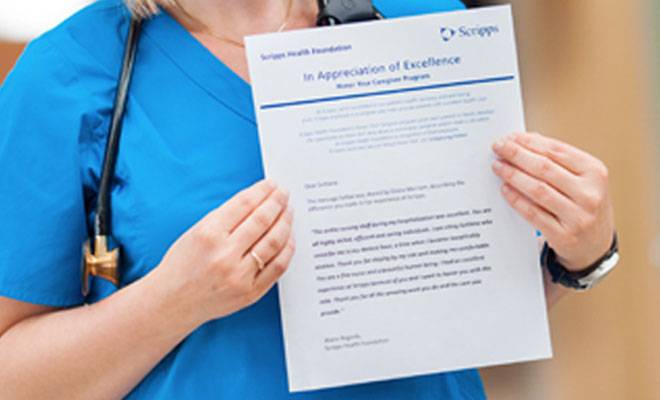 Honor Your Caregiver
Leave a message of thanks that will be personally delivered to the Scripps employee you're recognizing.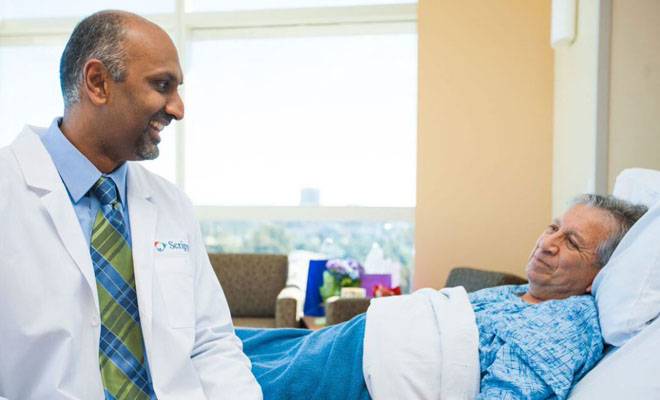 Virtual Honor Roll
Place your favorite employee's name on the Scripps' online honor roll. This list is frequently updated and regularly viewed by site visitors.
Recognize Them on Our Honor Roll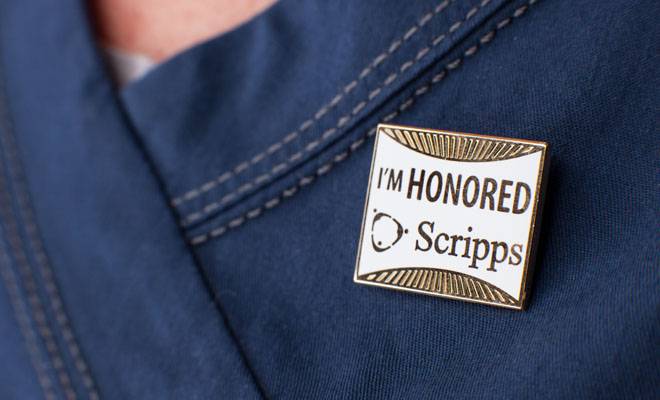 Special Lapel Pin
Recognize the employee who made a difference in your life with an "I'm Honored" lapel pin they can wear proudly.