Graduate Medical Education
The Role of Philanthropy in Graduate Medical Education
Before physicians are board-certified, they must complete at least three years in a residency program. Graduate medical education (GME) provides the intensive, hands-on experience that makes them great doctors. As a national leader in GME, Scripps has been training physicians longer than any other institution in San Diego. With strong faculty and stellar medical board pass rates, the residency and fellowship programs attract some of the best young physicians in the nation. 
But medicine is changing at light speed, and young doctors learn about genomics, digital health records and new therapies in real time. To complicate matters, teaching hospitals must provide the best possible medical education with limited resources.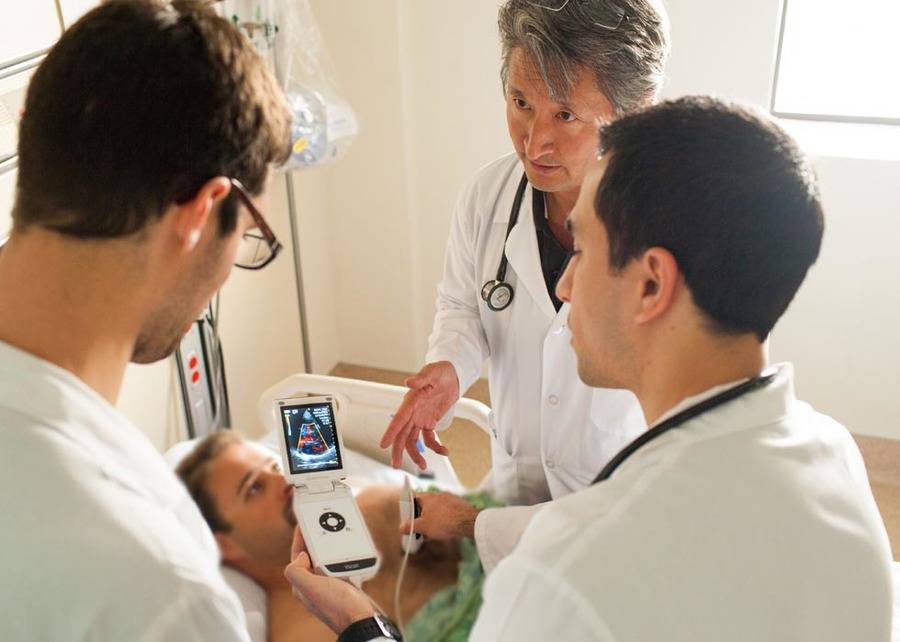 Seeing is Believing
The stethoscope is a useful tool, but it was invented in 1816, and background noise can drown out subtle health issues. Also, by the time a physician can hear a problem, it may have progressed quite far. To overcome these hurdles, Scripps Mercy Hospital is equipping residents with portable ultrasound machines. Called cardiovascular limited ultrasound examination (CLUE), the program makes detailed echocardiography quick and routine.
"It's a one-size-fits-all technique that allows doctors to examine patients in the office, ER, ICU or wherever," says cardiologist and associate GME program director Bruce Kimura, MD.
It can also lead to better care. "Plaque in the carotid artery can cause a stroke, and it starts to get concerning when the vessel is around 50 percent occluded," he says. "But that plaque didn't just show up at 50 percent; it progressed from five to 10 to 25. If we see it early, we can treat it before it becomes dangerous."
Scripps Mercy is one of only a few hospitals teaching this technique. The first devices were purchased with donor support, and Dr. Kimura is hoping to expand the program. "Now we have an exam we can teach the residents, who can do it in five minutes or less, that can tell us what each patient needs."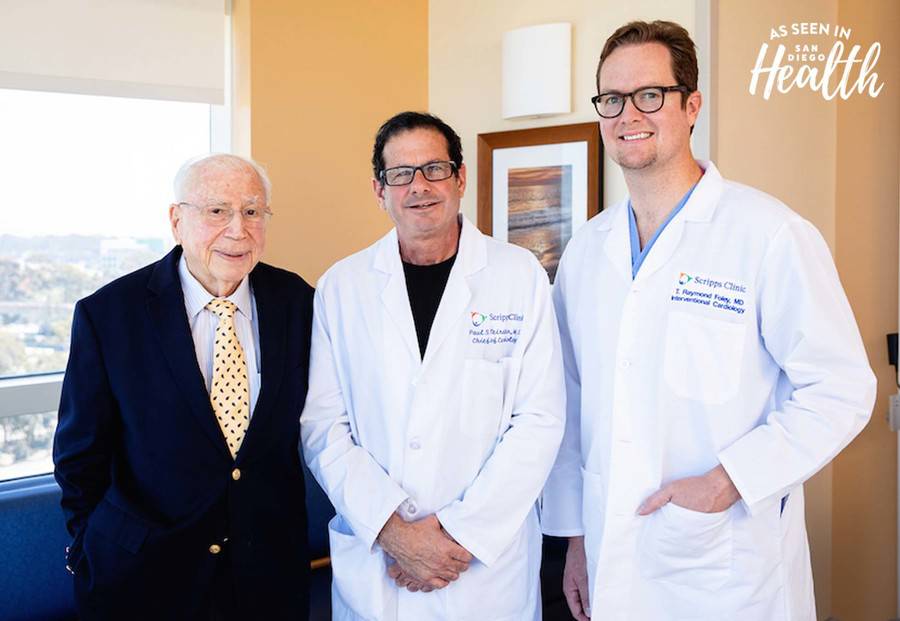 Exclusive Company
The Internal Medicine Residency Program at Scripps Clinic has an extremely low acceptance rate—less than 1.25 percent, which makes even Stanford University look easy by comparison at 4.7 percent.
"We receive more than 1,200 applications each year for 15 spots," notes Scripps Clinic internal medicine residency program director Biraj Shah, MD. These select residents hone their skills working with world-renowned physicians, watching leading-edge procedures and conducting basic research. Residents routinely publish their work, and those going on to fellowship training match at top-notch institutions.
"Medicare pays for only a portion of residency training. Our current government funding is based on the size of the program more than two decades ago. Since then, our number of residents has more than doubled thanks to philanthropic support," says Dr. Shah.
It is really challenging, because it is imperative that we expand to meet the growing needs of our community. Without philanthropy, our residency program could not exist to train the absolute best internists and physician leaders of the future. — Biraj Shah, MD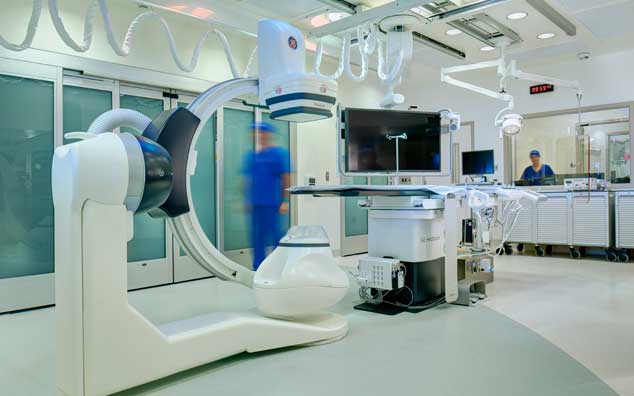 Leading Heart Care
Scripps Clinic offers a highly acclaimed interventional cardiology fellowship—and that's no accident. "We decided 30 years ago, when we started this program, that we wanted to be the best on the West Coast, if not the world," says Paul Teirstein, MD.
More than 3,500 stent procedures are performed at Prebys Cardiovascular Institute each year, more than any other hospital in California. More experience means better care. Scripps and Scripps Clinic cardiologists are often asked to tackle the most difficult procedures, and that excellence attracts outstanding fellows.
"When I interviewed here, it was the volume of procedures and the autonomy we were afforded that attracted me," says first-year fellow Raymond Foley, MD.
He was also attracted by the quality of the faculty, who constantly update their skills. One example is radial access catheterization, which uses an artery in the hand, rather than the larger one in the groin, to conduct minimally invasive heart procedures. Radial access is more challenging, but it produces better results. Nationwide, around 30 percent of catheterizations are done radially. At Prebys Cardiovascular Institute, it's 90 percent.
Supporting Future Generations
Graduate medical education (GME) plays a key role in providing outstanding care for people throughout San Diego. Scripps and Scripps Clinic programs attract some of the best physicians in the nation—and many choose to practice in San Diego. While government and private insurers pay for most patient care, they don't cover other necessities, such as GME.
To maintain educational excellence, Scripps relies on the generosity of many donors. Here are just a few of note.
Edward Hand and Stanley Harazim 
Hand and Harazim support Scripps Clinic's efforts to educate skilled and compassionate young doctors. They have worked closely with the program's leadership and over the years have made a number of donations to enhance the program's internal medicine faculty. "We are big believers in graduate medical education and have both received excellent care at Scripps Clinic," says Hand. "We feel the two are connected and want to do what we can to support  the program."
Seymour Filman, MD 
At 94, retired general surgeon Dr. Seymour Filman still comes to Scripps Green Hospital and Scripps Memorial Hospital La Jolla for grand rounds. As a physician, Dr. Filman particularly values the interventional cardiology fellowship program and the care these fellows provide. "I set up a foundation to do good, and they do a lot of good here," he says.
*This content appeared in San Diego Health, a publication in partnership between Scripps and San Diego Magazine that celebrates the healthy spirit of San Diego.