SCORE Scientists Expand the Envelope of Regenerating Tissue
SCORE Scientists Expand the Envelope of Regenerating Tissue
At the Shiley Center for Orthopedic Research and Education (SCORE), researchers and physician scientists are at the forefront of orthopedic innovation as we continue to pioneer breakthrough treatments.
Researchers Shawn Grogan, PhD, Erik Dorthe, MS, Nick Glembotski, and Austin Williams are part of a multidisciplinary team actively growing bone, cartilage and meniscus, and generated artificial blood vessels to nourish engineered tissue. The clinical applications will eventually provide revolutionary treatment for Scripps patients.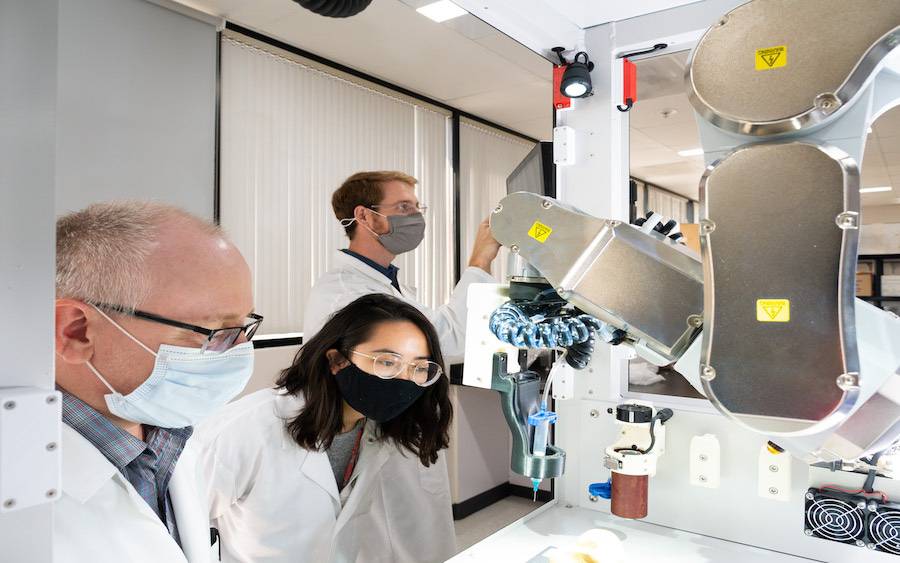 The SCORE team recently bioprinted stem cells harvested from bone marrow to form bone implants that were used to repair skull defects in animal models. These 3D bioprinted stem cell implants significantly enhanced bone healing compared to the current surgical treatment for craniofacial reconstruction.
SCORE continues work on healing meniscal tears, which are among the most common orthopedic injuries. The team electrospun collagen to form fibrous mats; stem cells grown on these mats generated meniscal tissue. This live meniscus tissue repaired and regenerated meniscal defects in animal models.
An active blood supply is needed to grow tissues in sizes that can be implanted in human patients. Using a robotic bioprinter, the team printed glass tubes that dissolve to generate channels for stem cells to form artificial blood vessels. These vessels can nourish engineered tissue in the lab and after implantation. The long-term objective is to grow tissues and organs that can be transplanted in patients.