Why I Give: COVID-19 Survivor Luis Sztuden Gives Back
Why I Give: COVID-19 Survivor Luis Sztuden Gives Back
As Luis Sztuden leaves Scripps Green Hospital, he is cheered on by doctors, nurses and employees who line the hallways. Other staff members follow him and his family out, pom-poms in hand, to celebrate his recovery from COVID-19. After 32 days spent waging the fight of his life, Luis is discharged from the hospital.
Amid the tears of joy and words of thanks, his family shows their gratitude in another meaningful way — through their philanthropic gifts to Scripps in honor of the caregivers who helped save his life.
"I can't thank the doctors, nurses and everyone at Scripps enough for all they have done for Luis. I wanted to do something special for them," says Nelly Sztuden, his wife. "They never gave up. They saved his life."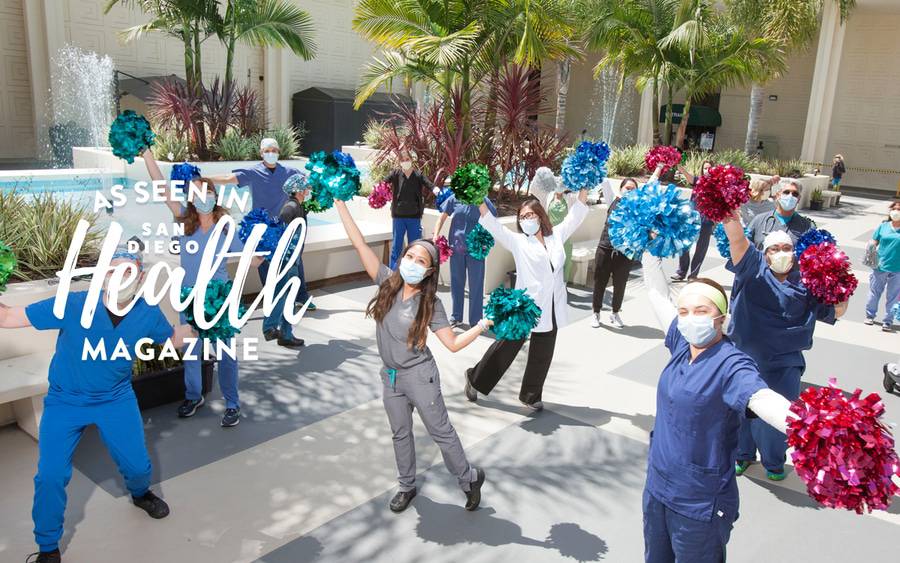 Providing critical, compassionate coronavirus care 
Luis is considered to be in a high-risk group for COVID-19 complications. He is 83 and has diabetes. Both he and Nelly were infected, but Luis took a dramatic turn for the worse and had to be hospitalized in late March. He had a high fever and what doctors call "severe lung injury," so he was intubated and put on a ventilator in the intensive care unit for more than two weeks.
"COVID-19 is a deadly disease," says Krishnan Rangarajan, MD, a Scripps Clinic critical care and pulmonary medicine specialist. "I am really proud of how our team is working together to find new ways to solve problems we've never experienced before, stretch resources and protect our staff and patients in the process of providing that care." 
Dr. Rangarajan adds that it takes a significant amount of time and resources to care for each coronavirus patient. For Luis, that team effort and highly specialized, round-the-clock care was important to his recovery.
Responding to rigorous, team-based COVID-19 treatment
From the physicians and nurses to the respiratory therapists and nutritionists, Dr. Rangarajan says his caregivers did not give up, and Luis gradually started responding to the treatment: "One day when I came in to check on him, Luis was awake, and he told me he was ready to have the breathing tube taken out. Luis was the first COVID-19 patient I took off a ventilator, and over the course of the next few hours, he was able to maintain breathing on his own. It was a really special moment for all of us."
"I was so nervous waiting to see how Luis would do," Nelly says. "When I got the call that he was breathing on his own, I was so incredibly relieved and called it a miracle."
"It makes our job so rewarding when we meet someone like Luis," says Elaine Hennig, RN, ICU nurse manager. "He showed us that the care we provide does make a difference. We did it — together."
Ensuring patients are well-cared for and families are well-informed
Luis was moved from the ICU into a lower-acuity direct observation unit. Nelly says the caregivers in the 
ICU and the direct observation unit at Scripps Green Hospital were always there for her and her family, providing words of encouragement, sharing phone updates and even coordinating virtual check-ins via tablet computer for Luis and his loved ones. 
"How do you thank someone for saving a life?" Nelly says. "My sons, Alex and Daniel, and I can never repay the caregivers at Scripps for what they have done for our family. Through our donations, we want to give these heroes on the front lines something special — something that brings them joy and helps keep them going."
*This content appeared in San Diego Health, a publication in partnership between Scripps and San Diego Magazine that celebrates the healthy spirit of San Diego.
Donate to Scripps COVID-19 Fund
While we continue to ensure our physicians, nurses and staff have the resources they need to safely care for patients, we have set up a special Scripps COVID-19 Fund to directly support our response to the health care needs of our community during this unprecedented time.