Why I Give: Richard Woltman
Why I Give: Richard Woltman
Philanthropist Dick Woltman's relationship with Scripps has spanned more than two decades. Ever since Mercy Hospital joined with Scripps in 1995, Woltman, a devout Catholic himself, has been a dedicated supporter and volunteer leader of Scripps Mercy Hospital. The Indiana native and former Army reservist who served in the Korean War had made his mark in the financial services industry and was recruited for his business acumen.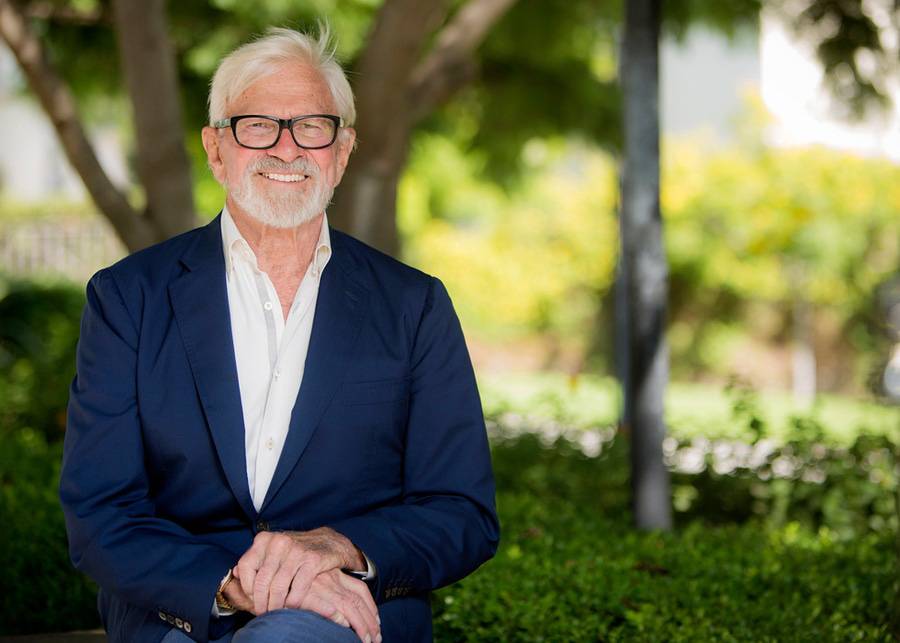 Scripps worked closely on the merger with the Sisters of Mercy and community members, including Woltman, in order to maintain Mercy's mission and its culture as a Catholic institution. "As a part of the Scripps system, the hospital grew and prospered to become the fine hospital it is today," he says. Woltman fondly remembers that the Sisters of Mercy also took a liking to his late wife Kaye. They formed such a strong bond that the sisters would drive to the Woltmans' home and swim in their pool for exercise. Kaye was also a highly valued community volunteer and served as a member of the Scripps Health Board of Trustees.
Woltman's support for Scripps Mercy Hospital took a more personal turn when Kaye's daughter Melisa Reasner McGuire was diagnosed with non-Hodgkin's lymphoma in 2001. She died the following year at age 37. The experience opened their eyes to ways to improve patient care. The Woltmans rallied support for what would later be named the Woltman Family Infusion Center. The center provides therapies, such as chemotherapy, to cancer patients. 
When Scripps Mercy needed new, state-of-the-art robotic surgical equipment, the Woltmans generously funded it, and the physicians named it Melisa, in honor of Kaye's daughter. Cancer would strike the Woltman family twice more. Woltman's son David is a cancer survivor, having been diagnosed and treated for colon cancer in 2005. And after surviving one bout of lung cancer and remaining cancer free for many years, Kaye passed away in 2010 from the disease.
Woltman has continued to support Scripps Mercy and Scripps Whittier Diabetes Institute through the years. He's not only a donor, he's a leader. He and Kaye were integral in Scripps Mercy's $50 million capital campaign for critical care and emergency services by serving as two of the four co-chairs of the campaign. Their support also made the Woltman Family Diabetes Care and Prevention Center in Chula Vista possible. He now considers philanthropy his full-time job, but his generosity goes beyond money.
What would you like your legacy to be?
I would like to be recognized for wanting to make San Diego a better place, to make people want to be the best they can be. I've had people give me a helping hand, and I've had my hard knocks. I had the good fortune of having a basketball coach by the name of John Wooden at [South Bend, Indiana] Central High School. He's a real collegiate legend. He was always a preacher of doing your best and being the best you can be. He didn't like the grading system. He said it was unfair if a kid can only be a C student; what's important that he did the best he could. I've had that in my mind for a long time. I guess my legacy will be that I tried to do my best, and tried to help a lot of people.
What inspires you?
I value faith, family, friends and helping others. It is my inspiration. I've had setbacks, and there has always been somebody there to be supportive. Money isn't the cure-all. When you're down, you need moral support; you need somebody to listen to you, give you direction, offer you hope and help pick you up, and I've had those experiences. I've had plenty of help, so I want to help people."
Any advice for future philanthropists?
I moved to San Diego and didn't know anybody. I found that being involved in fundraising was a way to get acquainted. I've been able to change lives, and that's been special.
*This content appeared in San Diego Health, a publication in partnership between Scripps and San Diego Magazine that celebrates the healthy spirit of San Diego.