Here for Good in La Jolla
Here for Good in La Jolla
Community support helps fund a new hospital tower at Scripps Memorial Hospital La Jolla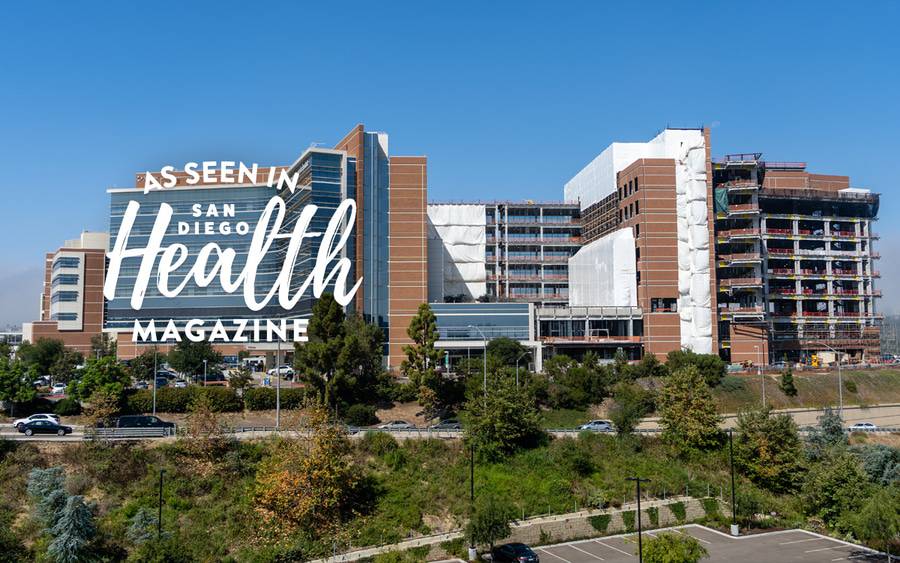 Big changes are under way at Scripps Memorial Hospital La Jolla. The campus is expanding, and a focal point is construction of a new, 433,000-square-foot hospital tower, which is part of the master plan for the campus during the next decade. 
Philanthropy is at the heart of the Scripps legacy since the organization was founded by an extraordinary philanthropic gift from Ellen Browning Scripps nearly a century ago — and continues today thanks to generous donors who support medical excellence and help meet the changing needs of the community.
"Between now and 2030, our Here for Good capital campaign will raise funds for growth across our Scripps hospitals and outpatient clinics throughout San Diego," says John Engle, Scripps corporate senior vice president and chief development officer. "At Scripps Memorial Hospital La Jolla, an additional $150 million in community support is needed to build the new, state-of-the-art hospital tower adjacent to the Prebys Cardiovascular Institute, and reimagine the entire campus. It's about providing the best care for our patients and in the best setting — and our donors help make that possible."
New hospital tower adds innovation and convenience
With expected completion in 2025, the new tower will feature 96 medical/surgical rooms, 12 "flex" rooms that can be used for medical/surgical or intensive care, nine operating rooms with two for robotic surgery, 51 pre- and post-surgery beds and 12 observation beds. The plan focuses on patient-centered care with private rooms, designated family areas and nurses' stations near patients, as well as investments in making the hospital a "smart" facility with the latest digital technologies.
"Technology and medical science are rapidly advancing," says June Komar, Scripps corporate executive vice president and chief of staff. "This tower will incorporate elements to continually enhance patient outcomes, quality and safety, through investment in state-of-the art medical equipment and innovative information tools for care support and clinical predictive analytics. Digital technology will also enable patients to easily connect with their care team, view their medical information, review education materials customized to their treatment, and enjoy a broad range of hospitality and entertainment features. It's exciting to be able to provide exceptional patient care and patient experience for years to come, in this advanced care setting."
Komar adds that the new tower is designed with maximum flexibility to accommodate changes as technology and trends in health care continue to advance.
"Between now and 2030, our Here for Good capital campaign will raise funds for growth across our Scripps hospitals and outpatient clinics throughout San Diego." — John B. Engle, Scripps Corporate Senior Vice President and Chief Development Officer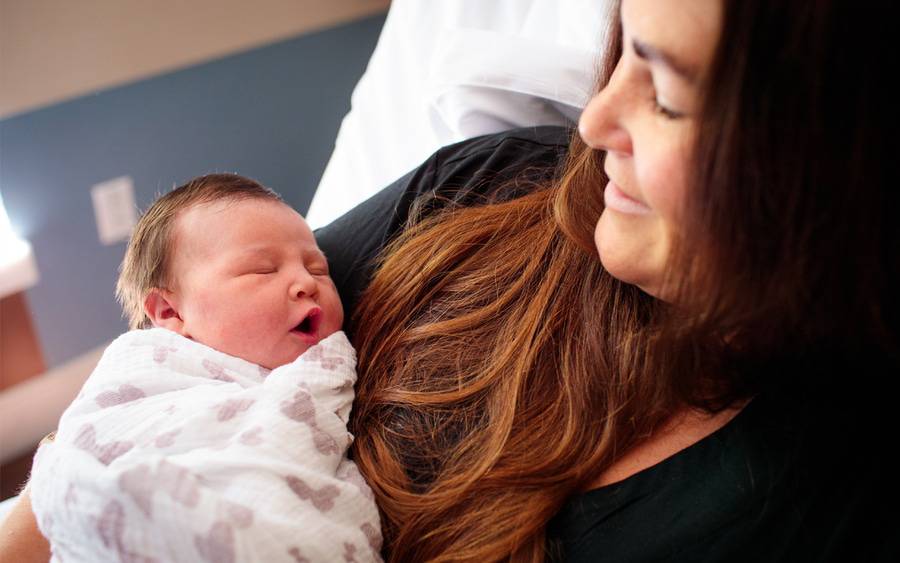 Comprehensive women's center for specialized needs
Another anchor of the new tower will be a three-floor dedicated women's center, which will include a labor and delivery floor with private rooms, operating rooms, antepartum rooms and a family waiting area with an outdoor patio. In addition, there will be an expanded, 18-bed neonatal intensive care unit capable of providing specialized care for premature babies and those with health concerns at birth.
"The women's center is such an important addition to Scripps La Jolla," says Lily Tsai, MD, a Scripps Clinic obstetrician and gynecologist, and minimally invasive gynecologic surgeon. "The idea is that we really want to be able to take care of women in all phases of their lives and having that ability in one comprehensive center helps meet that goal."
Designed to promote health and healing, the women's center will feature private rooms, calming colors, large windows and natural lighting, sitting alcoves, a nursery overlooking a rooftop garden and a boutique.
The center will also be equipped with state-of-the-art amenities to increase patient comfort, such as remote fetal monitoring technology, labor tubs, birthing balls, candles, aromatherapy and natural lighting.
There will also be enhanced space for caregivers, which will allow for more educators and lactation consultants onsite. Plus, there is added space for an array of specially trained staff, including obstetricians and maternal-fetal medicine specialists, who provide preconception counseling to women, as well as handle high-risk pregnancies and deliveries.
"A lot of thought was given to how the family will experience that environment and what it means to have more of a holistic, comprehensive, connected, coordinated approach to their care," says Amy Meier Foundos, RN, Scripps director of women's and newborn clinical services. "That played out in not only in the design, but in thinking through what kinds of patients we are going to see. We can offer customized, comprehensive services to any mom who is anticipating a delivery at Scripps La Jolla."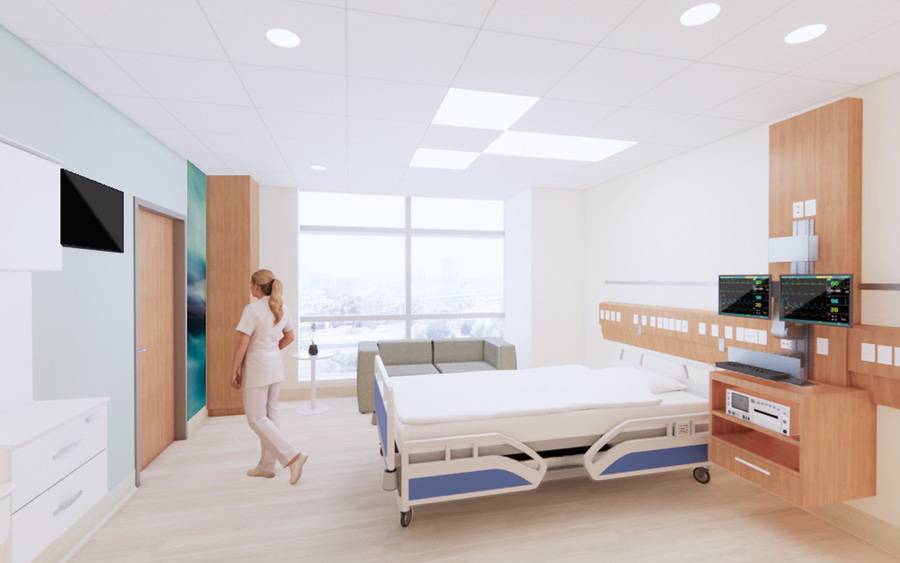 Here for medical excellence. Here for good.
Scripps is a recognized as one of the top 15 health systems in the nation by Merative, formerly known as IBM Watson Health, for quality care, operational efficiency and patient experience in 2022-2023. U.S. News & World Report also ranks Scripps as one of the nation's best hospitals in five specialty areas.*
Scripps has invested in the community and has a trusted legacy of caring for San Diegans longer than any other health system in the region. As part of a nonprofit health care system, philanthropic support will ensure that Scripps Memorial Hospital La Jolla will continue to be a premier destination for a full range of patient care needs in a state-of-the-art healing environment.
The campaign includes naming opportunities for the new hospital tower and the women's center, in addition to individual floors, units, waiting rooms, gardens, exam rooms and operating rooms, plus general donations can be made to help fund the tower's most pressing needs.
Generous donors have already made gifts to fund a surgical pavilion, patient rooms and cafeteria meeting rooms.
*Scripps La Jolla Hospitals and Clinics, 2023-2024
This content appeared in San Diego Health, a publication in partnership between Scripps and San Diego Magazine that celebrates the healthy spirit of San Diego.
Learn more about the new hospital tower and ways you can support Scripps Memorial Hospital La Jolla.