Scripps doctors highlight the importance of expanding women's services
As part of the Here for Good campaign, Scripps is enhancing women's services throughout the Scripps system. Philanthropy not only supports the expanded mother/baby unit at Scripps Memorial Hospital Encinitas to help care for a rising number of families in North County, community support will also help grow services at Scripps Mercy Hospital and Scripps Memorial Hospital La Jolla.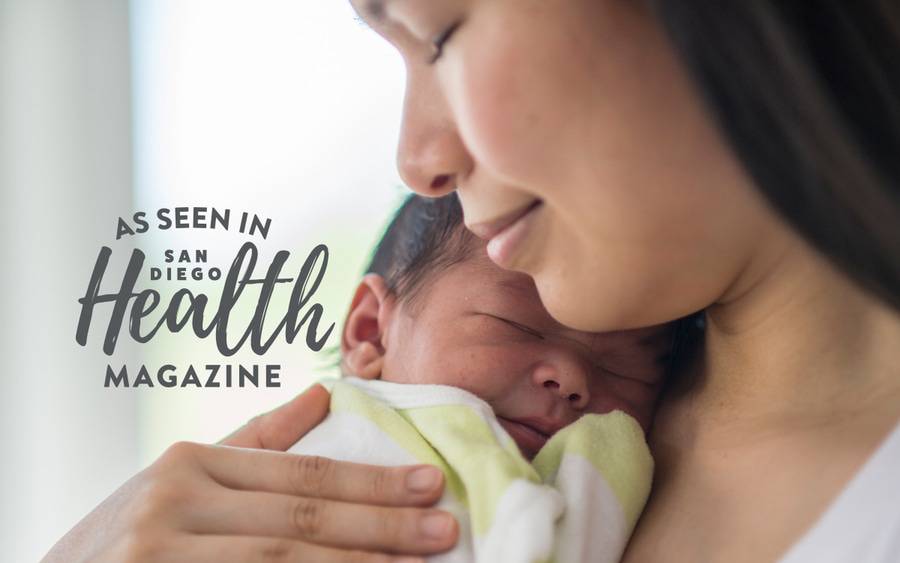 A new hospital tower on the campus of Scripps Memorial Hospital La Jolla will have three floors dedicated to women's specialized needs. One floor will be a postpartum unit with private rooms, a nursery overlooking the Prebys Rooftop Garden and a boutique that caters to new mothers. Another floor will include labor and delivery services with operating rooms, antepartum rooms, patient rooms with labor tubs, a family waiting area and an outdoor patio. And there will be an additional floor with a state-of-the-art, Level III neonatal intensive care unit (NICU).
"At Scripps, we feel very strongly that maternity care and childbirth are pivotal moments in people's lives, not just for the patient, but for the entire family," says Anupam "Bobby" Garg, MD, OB/GYN, Scripps Clinic, and medical director, Scripps women's and newborn services. "We want those experiences to be as enjoyable, comfortable and safe as possible." 
Expanding women's services units will also help doctors, nurses and other hospital staff provide a continuum of compassionate, personalized care. From the moment a patient checks in, her care should be consistent and her experience positive, and though she may be transferred to a different area or unit, her caregivers will be part of the same team. 
"Scripps is dedicated to ensuring the best outcome for our moms and babies," says Sean Daneshmand, MD, medical director, division of maternal and fetal medicine, Scripps Clinic. "From the time a patient comes into the hospital and is triaged or assessed, to the time she goes through labor and delivery and then is cared for in the postpartum unit, it needs to be a seamless process."
Scripps also plans to upgrade technology, for example, by switching to wireless heartbeat monitors so patients can move freely during labor, as well as providing advanced diagnostic and treatment tools for high-risk patients, and premature and critically ill babies. None of this would be possible without the generosity of Scripps donors. Philanthropy is essential to Scripps continuing to provide the very best care for years to come. 
"You see articles about overall birth rates going down, but here in the San Diego community and at Scripps, we're actually seeing quite a bit of growth," says Dr. Garg. "We want to support that by creating the best possible environment for our moms and babies. That's where the philanthropy comes in. Philanthropy is so crucial in terms of being able to expand our services the way we need to."
Learn about more ways to support Scripps through our Here for Good capital campaign.
Scripps Women's Health by the Numbers
4 - Specialized maternity hospitals in San Diego County (Scripps La Jolla Maternal and Child Health, Scripps Encinitas Birthing Pavilion, Scripps Mercy Hospital Family Birth Unit and Scripps Mercy Chula Vista Maternity Department)
1st - Scripps Memorial Hospital Encinitas is the first in San Diego designated a Baby-Friendly Hospital by UNICEF and the World Health Organization
4 - Scripps hospital campuses that have neonatal intensive care units
40 - Scripps OB-GYN surgeons who perform minimally invasive surgery
4 - Specialty clinics for patients with a high-risk pregnancy (Diabetes in Pregnancy, Scripps Pregnancy Heart Program, genetic counseling, and labor and delivery care)
8,951 - Babies born at Scripps hospitals in 2021
118 - Sets of twins
4 - Sets of triplets
This content appeared in San Diego Health, a publication in partnership between Scripps and San Diego Magazine that celebrates the healthy spirit of San Diego.