Support Scripps Canine Therapy Program
Healing comes in many forms. One seen throughout the Scripps Health system is Cody, a 10-pound, white Maltese. Cody and his human, retiree Nancy Treadway, are one of more than 60 volunteer teams in the Scripps canine therapy program. The teams trot through virtually all Scripps locations from ERs to nursing units on a daily basis, stopping to sniff, ask for belly rubs, and brighten the moment for patients, their loved ones, and doctors and nurses. Anyone can request a visit from Cody or another pup — some doctors even insist on it for their patients.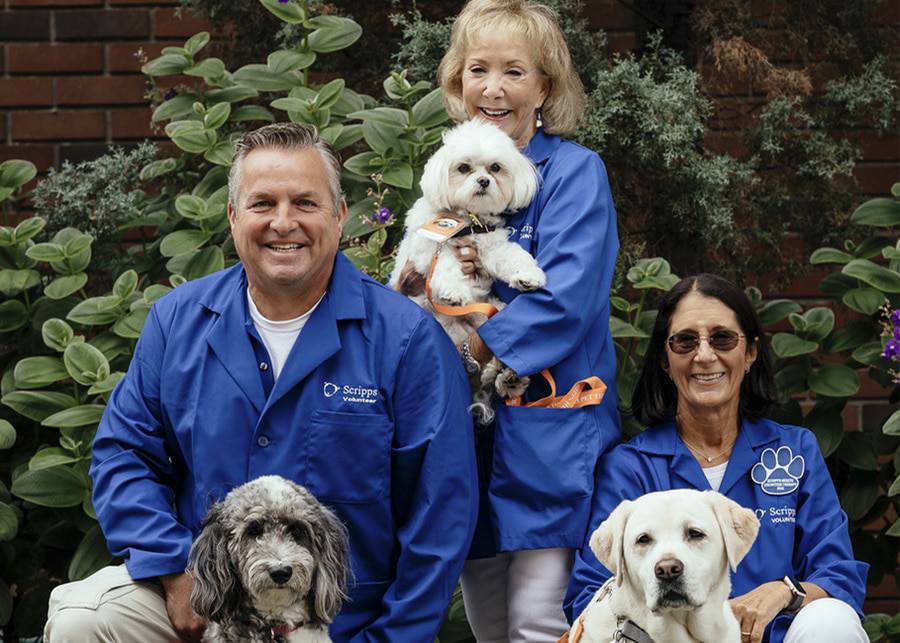 Pets Put Patients on the Mend
Like all the therapy dogs, Cody earned a Canine Good Citizen Certificate and went through a training program to orient him to the slippery floors and sometimes-bustling medical environment. The pint-size pooch is hypo allergenic and just the right size to hop up onto a hospital bed if that's what a patient wants. 
"He knows exactly what to do. He'll make a little turn and snuggle right in," says Treadway, who has been volunteering with Cody for three years. "It's so heartwarming to watch."
Therapy dogs are known to reduce stress and anxiety and can take a patient's focus off of pain, discomfort, or apprehension about being in a hospital. The teams have logged 25,000 patient visits in over 4,000 volunteer hours.
It's so touching to have a volunteer canine team walk into a room with a patient who's distraught, sad or in pain; as soon as they see the dog their face lights up. You can see their body relax. Aside from the pain, it really helps with the monotony of being in a room alone. — Lititia Olais, Canine Therapy Volunteer Coordinator
*This content appeared in San Diego Health, a publication in partnership between Scripps and San Diego Magazine that celebrates the healthy spirit of San Diego.