Announcing Prebys Cancer Center
Announcing Prebys Cancer Center 
Construction of this state-of-the-art cancer center was made possible through philanthropy.
This August, Scripps began construction on Prebys Cancer Center on the campus of Scripps Mercy Hospital. The $59 million state-of-the-art cancer center was made possible by late philanthropist Conrad Prebys, a longtime Scripps supporter. Once Prebys Cancer Center officially opens its doors in 2022, patients in central and south San Diego will have access to Scripps MD Anderson's leading-edge cancer treatments and support services closer to home.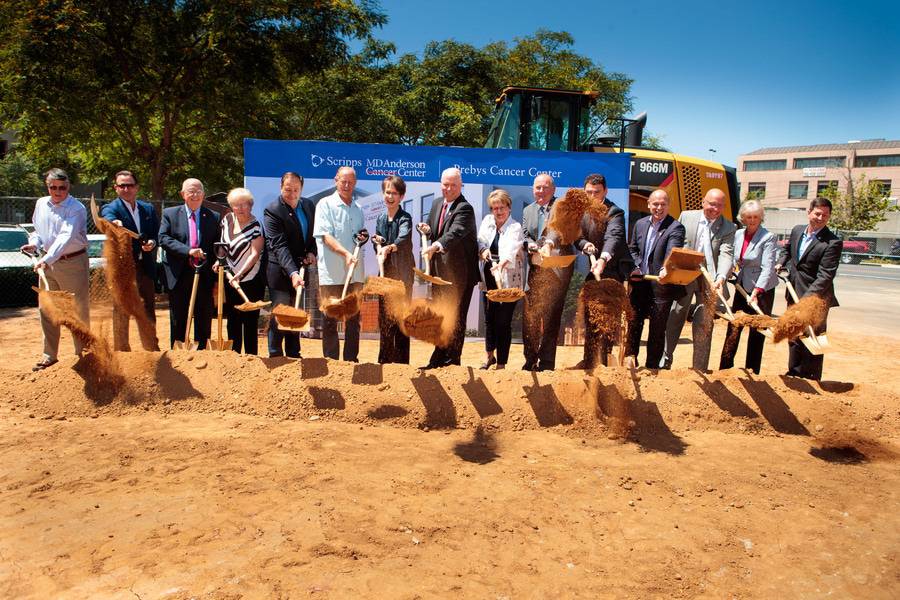 Conrad Prebys's generosity has left an indelible mark on San Diego. Anywhere you go around town, the late philanthropist's name is there: Prebys Cardiovascular Institute at Scripps Memorial Hospital La Jolla, Conrad Prebys Emergency and Trauma Center at Scripps Mercy Hospital, Conrad Prebys Theatre Center at The Old Globe, San Diego Zoo's Conrad Prebys Africa Rocks, Sanford Burnham Prebys Medical Discovery Institute and more. 
Now the Prebys Cancer Center joins the list. In early August 2019, Scripps broke ground on this new outpatient facility on Fifth Avenue in Hillcrest, located on the Scripps Mercy Hospital campus. When completed, it will be the second of two regional cancer care hubs that are part of the Scripps MD Anderson Cancer Center partnership. Prebys Cancer Center will bring patients the most advanced radiation therapies, a 20-chair infusion center for immunotherapy, chemotherapy and other treatments, and many other critical services.
Prebys Cancer Center is just the first piece of a long-term effort to expand Scripps Mercy Hospital and is expected to open in spring 2022. 
"By building state-of-the-art facilities, like this one, we put each patient at the center of their care," Scripps President and CEO Chris Van Gorder said at the groundbreaking. "Prebys Cancer Center will continue Conrad's legacy by providing access to exceptional health care to residents in our central and southern regions of San Diego County.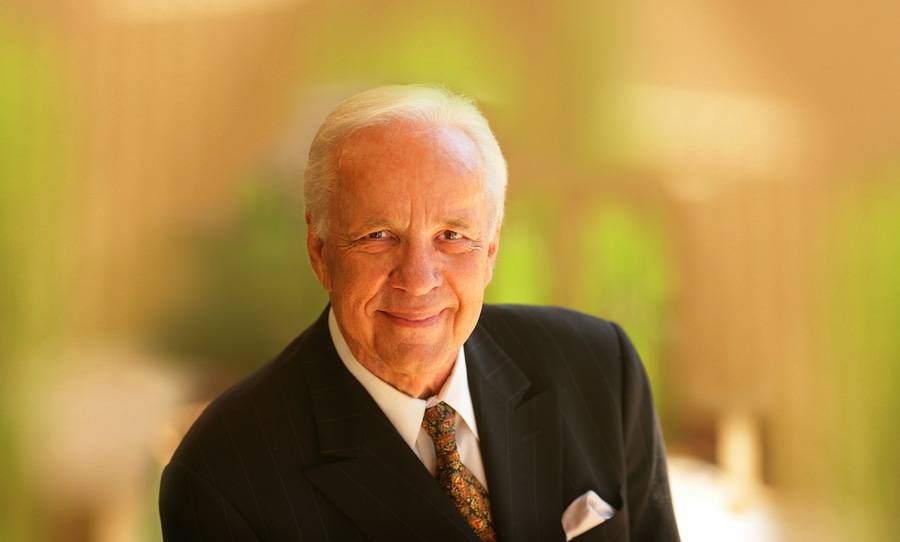 A Personal Commitment
Conrad Prebys had a special passion for health care—both in research and clinical care. This commitment grew from his own personal struggles. As a young boy, he dealt with heart issues and spent many months in hospitals. The experience would inspire him to support and name Prebys Cardiovascular Institute at Scripps Memorial Hospital La Jolla. 
Cancer was also personal for him. Ten years ago, Prebys lost four close friends in rapid succession. And just a few years later, he was also diagnosed with cancer. Though he ultimately died from the disease, he remained defiant. 
"Conrad lost his own fight with cancer a little more than three years ago," says Van Gorder. "During his care, he again came forward to help others who face similar battles. This is a gift he made personally." 
Prebys donated $20 million to build the facility, which will ultimately cost $59 million, and earmarked an additional $5 million to fund an endowed medical directorship, to ensure the center will always attract the best leadership. Altogether, Prebys contributed $81 million to support patient care at Scripps.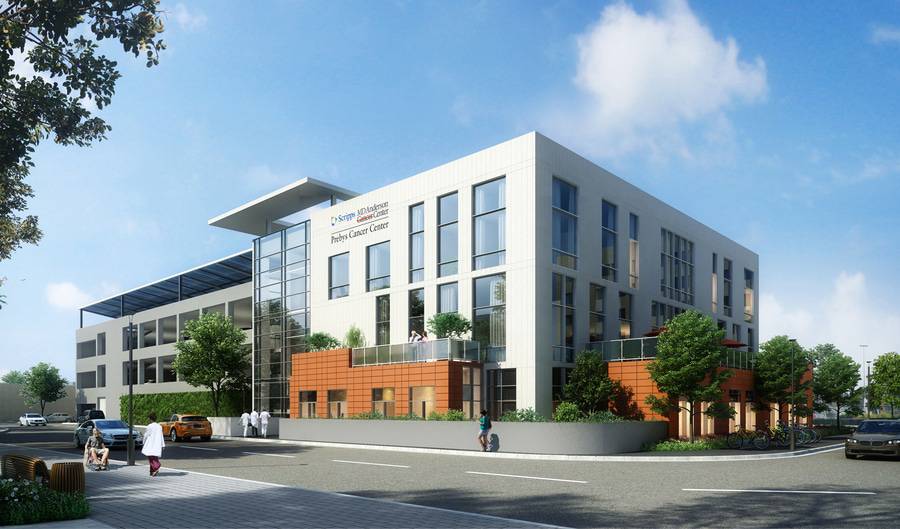 A State-Of-The-Art Facility
The 40,000-square-foot Prebys Cancer Center will feature some of the most advanced technology available, including TrueBeam linear accelerators, which use precise radiation therapy to eradicate tumors without harming healthy tissue. 
The facility is designed to comfort and support patients, their families and their friends. Floor-to-ceiling windows will maximize natural light. In addition to offering the latest advances in precision medicine, the second-floor infusion center will be surrounded by three rooftop terraces, offering patients more natural surroundings and enhanced opportunities to experience San Diego's beautiful weather. 
In every detail, the environment is designed to put patients first. Scripps MD Anderson organizes physicians into multidisciplinary care teams by cancer type. Each team is customized for patients, and can include a medical oncologist, radiation oncologist, surgeon, pathologist, radiologist and other specialists. Together, they review each patient's case and decide on the best possible care plan. Patients can meet with all of their specialists during a single appointment, which eases the logistical burden on them and enhances care coordination. 
Prebys Cancer Center will complement our multidisciplinary team approach to cancer care by bringing physicians, caregivers and services around the patient in a single location. Offering a comprehensive scope of services in a single setting provides convenience for patients and their families, while also fostering strong collaboration and communication among the entire care team.
A Powerful Partnership
Scripps and MD Anderson Cancer Center teamed up to create Scripps MD Anderson Cancer Center, a clinically integrated cancer care program in San Diego, which began delivering patient care in 2018. The partnership brings together the expertise of physicians at Scripps and MD Anderson to provide patient-centered care, using some of the most advanced cancer treatments available today. 
"The amount of dedication to building out this program has been tremendous. MD Anderson's mission is to end cancer not just in Texas, but across the nation and the globe. It's exciting to see Scripps expanding and giving patients another chance for hope and healing with the construction of this outpatient cancer center."
— Michael Kupferman, MD, senior vice president of MD Anderson Cancer Network